Whether you are celebrating a birthday or daughters day, there are beautiful gifts for daughters from mom that they will treasure for a lifetime. The gifts do not have to be expensive or elaborate. Here are the top 11 gift ideas that mothers can choose from to create the perfect present for their little darlings.
11 Daughter Gift Ideas from Moms
Following are the top handpicked gift suggestions that a mom can present to her daughter:
1. Portable Pocket Radio with Alarm Clock
This full of features AM FM Pocket Radio becomes a wonderful present for daughter from a mom. This is a small pocket radio but it has lots of options such as alarm clock, long lasting AM FM reception, comes with stereo headphone and easy portability. It is perfect for studying girls, living in hostels, or the one who travels frequently as it is good to take on long trips. This tiny beautiful gadget is makes the an amazing gift for birthdays, Daughters Days, holidays, or when you feel like sending something special to your daughter.
2. Ice Cube Tray for Cat Lover Girls
If your daughter loves cats, this is the best gift to consider. This cat shaped beautiful ice cubes is going to be perfect gift from a mother. And you would see she would love it, use it and will be delighted to serve cubes to you from her cat-ice-tray.
Try this, it's not costly!
3. My Daughter Jewelry Music Box
This beautiful wooden music box holds a lovey dedication to daughters which can be replaced by a photo if you desire. There is also a 4" x 4" compartment inside to hold valuable items. When opened, the music box plays "You are My Sunshine" and you can see the mechanical device play the tune. This is one of the best daughter gifts from mum that you can find and for a low, affordable price.
It's very beautiful, isn't it?
4. My Daughter My Love Heart Pendant Necklace
A lovely heart-shaped necklace is crafted from sterling silver. It has a box chain with spring-ring clasp, filigree cutouts and "Love" written in cursive, and the message "My Daughter My Love" engraved on the back.
5. Sculpted Magnet
A simple, heartfelt message about a mother's love for her daughter is one that she will never forget. Crafted from durable resin, this is a statement that can be placed on a metal surface and last for a lifetime. Made by Blue Mountain Arts, it represents the unique gifts for daughter from mothers that will be loved.
6. To My Daughter – Framed Poem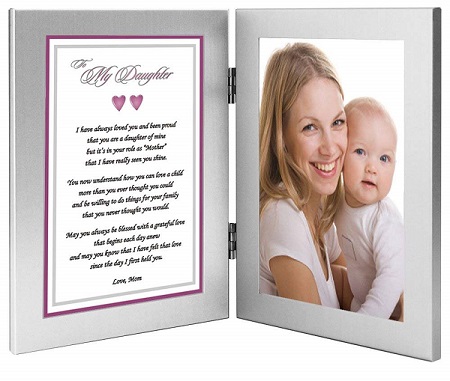 This simple, elegant gift comes with a picture frame and a beautiful poem that your daughter will cherish forever. This is for adult daughters who are bringing their own children into the world. The two 4" x 6" frames are attached, so they can be opened to reveal the poem and picture inside. This makes for a beautiful gift for your daughter when she is having children.
7. To My Daughter 11 Oz Tea or Coffee Cup
The sentiment that is carried by this unique gift is the "To My Daughter", written on the mug. The cup will always make her remember of you whenever she takes tea or coffee. You can present this gift to your daughter on her birthday, Daughter's Day, or any event that suits.
8. "My Daughter, I Love You and I Believe in You" – Book
This remarkable work by Suzy Toronto represents one of the best books about the love, affection, and respect that mothers have for their daughters. This is an affectionate keepsake that your daughter will treasure all her life thanks to the love, hope, support, and wisdom that this book contains. Beautifully illustrated in a charming, timeless manner, "My Daughter, I Love You and I Believe in You" is the perfect gift.
9. QIIER Daughter Bracelet
This wonderful bracelet crafted from stainless steel, offers two charms that remind your daughter of the love that you have for her. One heart-shaped charm states "daughter" while the other offers the passage, "Close together or far apart, you are forever in my heart". The bracelet itself is hypoallergenic with no nickel or lead. This one-size-fits-all bracelet is adjustable and makes the perfect gift for birthdays, Christmas, or any time of the year when you want to remind your daughter of the love you have for her. The bracelet comes in an elegant jewelry pouch, which makes it the perfect wrap for a wonderful gift.
10. J Devlin Purple Glass Jewelry Keepsake Box
This 3" x 3" jewelry keepsake box by J Devlin Glass Art is striking in appearance and features the inscription "Daughter" in a heart-shaped charm on the side. The clear glass top allows for viewing inside the keepsake box which also includes iridescent glass bottom as well. The craftsmanship is apparent when viewing the sides of the box which have an embossed vintage texture topped off by purple trim. This handcrafted product is lead-free, beautifully realized, and makes the perfect gift for your daughter thanks to its remarkable quality. It is also affordably priced and will last a lifetime under normal use conditions and a little maintenance.
11. "To My Daughter: Love and Encouragement to Carry with You on Your Journey Through Life" – Book
Another excellent book from Blue Mountain Arts, the author Marci has managed to capture the love, joy, and support that mothers have for their daughters all in this remarkable paperback. It will touch the heart of your daughter and everyone who reads this remarkable work. The celebrated author Marci has managed to put into words the feelings that mothers have for their daughters and tells a wonderful story that your daughter will treasure forever. It's also a great book to pass down from mothers to daughters to take with them on their journey through life.
Bottom Line: Gift Ideas for Daughters from Mother
You can choose one, two, or all four gifts if you desire to show the love you have for your daughter. Each gift is a timeless reminder of the joy, passion, and hope that you have for your child as she makes her way through the world.
Purchasing gifts for daughters from mom is easy when you find the present that expresses your feelings in the right way. Such gifts stand the test of time. For a mother's love of their daughters, this means getting the right gift they will cherish always.