Many follow the tradition of celebrating the fourth Sunday in September as Daughters Day in India. Here we will be discussing the history, celebrations, and all you need to know about marking the day, for your little angel.
In 2023, the Daughter's day is falling on: 
Sunday, September 24
For years, people in the major cities of India, such as Mumbai, Delhi, and Bengaluru have been celebrating the day with real enthusiasm that has excited the rest of the country.
Celebrations
Similar to other countries, this day, Indian parents also wish their daughters with a nice quote or message. Celebrating Daughters' Day begins with simply wishing your daughter. However, parents can go ahead by doing additional things such as buying her a gift, spending all day with her, or take her to a place she likes and so on.
Quotes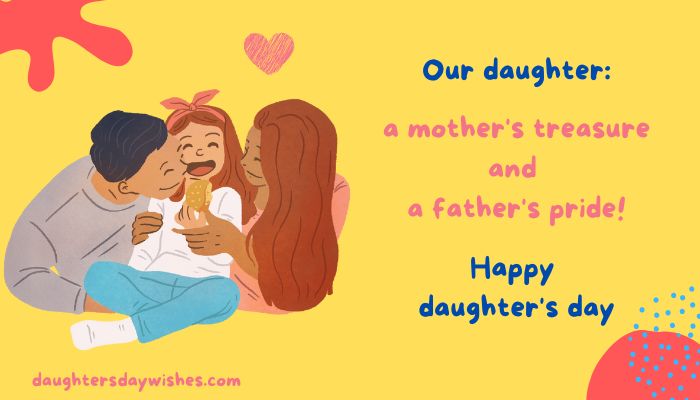 Following is a sample Daughters Day message given:
I wish for you the greatest things in life.  If you dream it and strive for it, my daughter, you can achieve it.
See Daughters day wishes from mother or parents in English and for Hindi see this.
Singing her a poem
It takes a minute or two to sing your daughter a nice little poem but it has a great impact. It will definitely glow her up. Whether you  are cheering her with any other activities or not, but do not forget to dedicate a poem to her.
Here is a sample poem:
Every morning a wake
I'm thankful for my little girl.
For the joy that you brought to my life.
And the love that you brought to my world.
You'll always be dear to my heart.
From it you will never part.

Happy Daughter's Day!
If you're interested, here are additional poems for Daughter's Day: some from a mother's perspective and others from a father's.
Going shopping or buying her favorite gift
Take her for shopping and buy her favorite toys, shoes, dress or gadgets. This is her special day, dedicated to daughters worldwide. Make it memorable for her with a thoughtful gift she'll love for coming years.
Spending the day with your daughter
The most precious gift for your daughter is your quality time together. Daughter's Day is perfect day for this. Involve her with some creative activity at home. Celebrate a party or cheer her by other possible means.
Here is a relevant vlog:
Visit her favorite place
Whether your daughter is a younger one or stepped into adulthood, plan to spend the day with her accordingly. Taj Mahal, Gateway of India in Mumbai, Arignar Anna Zoological Park, and Kovalam beach are some of the prominent places to spend the day, choose the suitable and nearer one.
Famous kids places in India:
History
The day itself has only been a part of Indian culture for the past few years, but it has gained a strong place in regard to annual events that are celebrated around the country.
India and Daughters Day
India also celebrate Daughters Week which include different activities to celebrate the girl children.
Gifts
Unlike birthday parties where the gifts are geared to the individual, Daughters Day tends to be more along the lines of flowers and items of cultural significance. Of course, traditions within families are developing which means that the types of gifts and recognition will depend on the family unit.
Daughters Day in Other Countries: