Bangladesh also observes the days being celebrated around the world. One of those days is Daughters Day. The day is remarked in Bangladesh as 'National Girl Child Day' on September 30th every year. The day is equal to Daughters Day as in other countries. Bangladeshis celebrate the day to highlight the importance of daughters in their society. Another reason to observe the day is to encourage girls in their life endeavors and motivate them to grow confident. It is worthy to note that in the US and across the world, National Girl Child Day is celebrated on October 11 every year.
Daughters' Day or National Girl Child Day is one of the days observed throughout Bangladesh at the national level. The day though is different in other countries such as in India, it is celebrated on the 4th Sunday of September each year.  In the United States, the date is even different. There are also other instances of Daughters Day celebrations in different countries including the United Kingdom, Canada, and Australia.
Celebrations
National Level:
At the national level, National Girl Child is remarked in Bangladesh, governmental or non-governmental organizations. Campaigns are conducted to raise awareness of the importance of the girls as well as to provide them with improved opportunities and resources.
Institutional Level:
Schools, colleges and educational institutions hold activities and programs about the Daughters Day. Speeches, essays, and debate contests are held. On the individual level, parents can perform certain activities for their daughters.
Personal Level:
Bangladeshi parents remark the day by wishing their daughters with a prayer, quote, wish or a motivational message. These include hanging out the day with their daughters, gifting them their favorite toys and items and so on.
How to Celebrate?
Wishes and Quotes
The most basic form of celebration is dedicating the little princess a nice wish.
Following is a sample wish/quote to dedicate to your daughter, given in English, Bengali and Hindi:
English: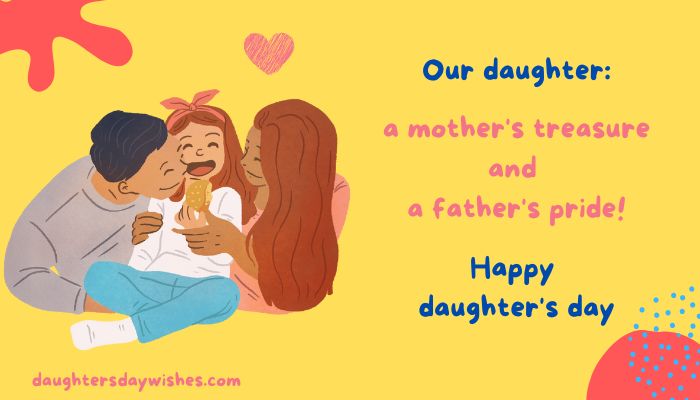 I wish for you to always find joy and peace and happiness. Happy Daughter's Day
View Daughters Day wishes in English
Bengali:
আমি সবসময় আনন্দ, শান্তি এবং সুখ খুঁজে পেতে চাই। শুভ মেয়ে দিন
Āmi sabasamaẏa ānanda, śānti ēbaṁ sukha khum̐jē pētē cā'i. Śubha mēẏē dina
Hindi:
मैं आपके लिए हमेशा खुशी, शांति और आनंद की कामना करता हूं।
main aapake lie hamesha khushee, shaanti aur aanand kee kaamana karata hoon
Poems
Who would not like to cheer her little angel?
Obviously, every parent will.
So here is a sample poem you can sing to your daughter to glow her up:
A daughter like you
Brought Heaven to me
God must have known
You'd be what I need
My love for you
Will never cease
This is a little six line poem. For more, check out these Daughter poems from a father and these from a mother.
History
Bangladesh has been celebrating National Girl Child Day on the 30th day of September every year since 2000. The day is aimed at raising the awareness the girls are not inferior or less important. Girl children are equally as important as boy children are. Activities, seminars, forums, and rallies are conducted to highlight and culminate the discrimination against girls.
Daughters Day Resources You May Like: