Daughters Day 2023 in Australia is scheduled for the 4th Sunday in September, falling on Sep 24th. Following the traditions of most other countries, Australian people also recognize this day. While countrywide celebrations have not been planned, it is true that many families have taken steps to recognize this day.
Daughters Day Observation in Australia
With the advent of Daughters Day in the US, UK, and Canada, it was not long before Australia followed the lead.  Now the folks in Australia also observe the day on an annual basis and celebrate their daughters.
How to Celebrate?
1. Wishing your little girl:
One of the simplest ways to greet your daughter is sending her a sweet Daughters Day wish. This seems a small one but it means a lot. A bunch of words curated for your beloved are enough to put a smile on her lips.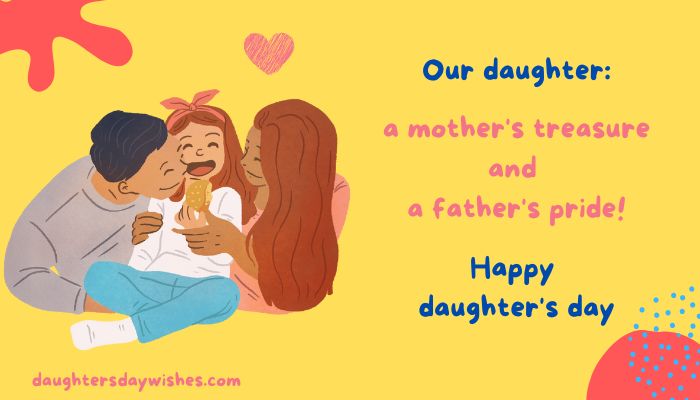 Some nice examples:
I can still remember cradling you in my arms and thanking God for you. Happy Daughter's Day! Love from your mother.
You are the only woman I don't mind competing with for your father's attention.
A parent's greatest joy is to see their daughter grow into a woman. Happy Daughters Day to Our Beloved Princess!
2. Taking her to a nearby fun place
Dedicate the day to her.
Take your little daughter to her favorite place near you and allow her to bloom and blossom with fully with whole of your love and care.
Here are the top places in the major Australian cities listed:
1. Melbourne, Victoria:
MOPA: Museum of Play & Art
Sea Life Melbourne Aquarium
Scienceworks, Spotswood
2. Sydney, New South Wales
BridgeClimb Sydney
iFLY Downunder (Sydney West) Indoor Skydiving
Taronga Zoo Sydney
3. Canberra
Corin Forest
Tidbinbilla Nature Reserve
National Dinosaur Museum
4. Adelaide
Adelaide Zoo
TreeClimb Adelaide
West Beach Adventure
Kings Park and Botanic Garden
Funcats Watersports
Lake Leschenaultia
6. Cairns
Cairns Esplanade Lagoon
Esplanade Boardwalk
Cairns Aquarium
Lone Pine Koala Sanctuary
White Ridge Farm
Sand Toboggan
Tasmanian Museum and Art Gallery
Evolo Room Escape
Iron Pot Cruises
3. Sing her a poem
If your girl likes poems, dedicate one to her on the upcoming Daughter's Day:
History of Daughters' Day
The history of this day is not a long one, but since its inception it has grown considerably across Australia. It is a natural extension of other days such as Mother's and Father's Day which is a strong tradition.
For many, Daughters Day is a time of reflection which helps to remind everyone of the contributions made by daughters every day. Plus, it is a time of love and celebration where gifts are given, and families get together to celebrate this event. In some cases, both sons and daughters are celebrated on the same day, so that everyone in the family gets the proper recognition.
Why Daughters Day is Important?
There are several reasons why this day has grown in importance across Australia, starting with the recognition that it has only occurred recently in the culture.
Reflection
For many, it represents reaching into the past and making promises for the future since daughters are held in higher esteem. Plus, reflecting on the past provides a pathway to celebrate daughters both today and tomorrow.
Potential
Aussies pay high attention to younger daughters as they have so much of their future awaiting them. By providing the right perspective on the contributions that they can make, it helps to encourage daughters to feel special about themselves.
The day also reminds the daughters about their importance and happiness they brought over the years and what lies ahead.
Undoubtedly, Daughters Day in Australia 2023 will be one to remember as families gather to celebrate their daughters both young and young in heart. Celebrating it will surely provide a day to remember for daughters of all ages. And therefore, they can move forward and reach their potential.