With daughters day coming up, it is the perfect time to find the right gift for your daughter or daughter in law. The good news is that there are many great daughters day gift ideas. And, here are the top seven for you to start your search in finding the perfect present for your daughter.
Top 7 Gifts for Daughters Day 2021
Here are the top gift ideas for daughters from dad or mom.
1. Cottage Garden Music Jewelry Box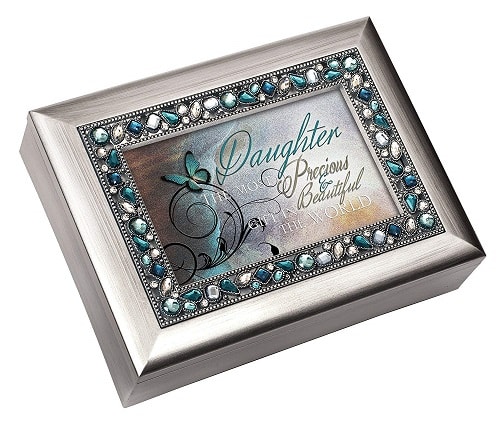 This 8" x 6" x 4" box has a stunning inlaid jeweled photo frame for a lid. This means you can personalize it with your own picture. The song the music box plays is "You Light Up My Life" and the 4" x 4" cavity easily holds your jewelry and other valuable items. Crafted from beautiful, durable materials, this is a present that your daughter will never forget.
2. Inspiration Bracelet for Daughters
An inspiriting statement of love, confidence, and affection, this remarkable bracelet is one of the best online gifts for daughter you can find. Complete with a brand jewelry bag, this stainless-steel bracelet is hypoallergenic, durable, and easy to maintain. Plus, it is strikingly beautiful and perfect for the next daughters day as your gift.
3. Lady Color Sapphire Necklace
A symbol of hope and love, this stunning necklace offers a pendant heart and Swarovski crystals. It shines in the light and will be the pride of your daughter when she receives this marvelous gift. This gift comes with an elegant jewelry gift box and is the perfect present for your daughter on her special day. Of course, it's also a great gift for her birthday, holiday, or any day.
4. Heart-touching Poem for Daughter
This beautiful poem that expresses the love inside for your daughter may be purchased without a frame or with a frame for an extra cost. The poem itself is double matted and displayed with burgundy over the dark green. However, it is the watercolor graphics that are added which make this a special gift that your daughter will appreciate.
5. QIANSE Bracelet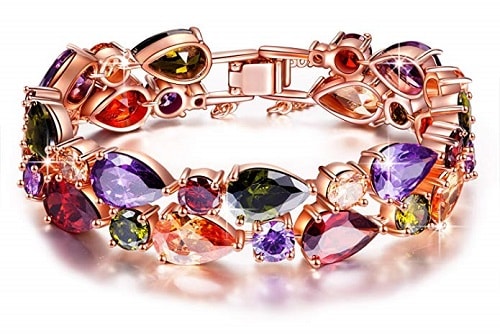 Loud, proud, and beautiful is the best way to describe this cubic zirconia bracelet that is filled with stunning gems. The rose gold brass sets off the gems wonderfully and is hypoallergenic. There is also a safety chain to help secure the bracelet that will shine brightly on your wrist.
6. You are Brave Pendant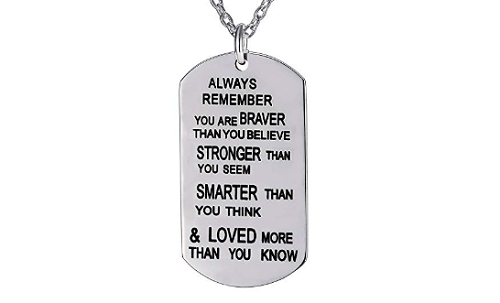 A simple message beautifully told, this remarkable pendant comes in either stainless-steel or zinc alloy. Hypoallergenic and easy to maintain, this wonderful pendant is the perfect gift on daughters day and one that she will always appreciate.
7. You are Loved Greeting Card
Quite often the simplest gifts are the most memorable. For the times when you cannot be there in person or when you want to augment another present you are giving, this postcard offers a wonderful sentiment. Plus, it's one that your daughter will appreciate every day as she puts it in a place where it will be seen and remembered.
Final Word – Gifts for Daughters Day
With seven great Daughters day gift ideas to choose, you can find the right one for your daughter or daughter in law. All gifts presented here are high-quality, inexpensive, and perfect to express the love you have for your daughter. Plus, you'll have plenty of great gift ideas for birthdays, holidays, and the next Daughters Day.