The beautiful relation between a daughter and a father is exemplary. From the moment they come into this world to every moment of their lives, fathers cherish and love their little princesses with their heart. There is some sacred bond between daughters and fathers that can't be explained. We came up here with 10 amazing daughters' gifts from dad for the coming Daughters' Day.
Your little angels fly into and out of the house, hustling and bustling about you. Sometimes making their sweet little requests, sometimes caring for you and at other times getting into silly troubles. Daughters truly are a gift and only lucky dads get to enjoy this beautiful relation. Well, why not give your little princess a beautiful gift. One thing is for sure, you get a variety of things to pick from!
10 Best Daughters' Gifts from Dad
So here we describe ten beautiful gifts that you can give your daughter and see that huge smile on her face!
1. Charms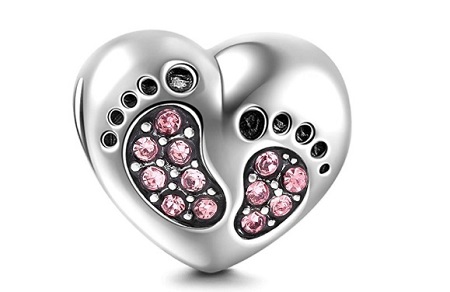 Girls love to have charms and something that you gift her will be memorable for her. Chose this beautiful charms bracelet and enjoy her look of delight as she wears this cute and delicate ornament on her wrist. It's modern and goes with every outfit which means she can have a sentimental accessory to wear whenever she wants.
2. Music Box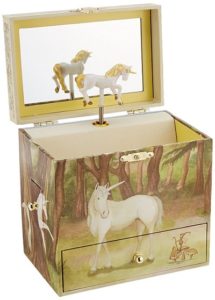 Girls are sweet and love music. What better gift to choose than an elegant music jewelry box. This one has pretty unicorns painted over it with a sweet little figure spinning with the music. It is really sweet and capacious. This means she can enjoy having a cute jewelry box and keep all her little ornaments in it as well. She will certainly love this gift for sure.
3. Inspirational Pendant
Sometimes you need to give your little girl a push. One great way to make sure that you are always with her is by gifting her an inspirational pendant. It will lie around her neck and will be there to encourage her on whenever she needs it. This little gift can become a very valuable possession for your daughter and is a great gift to have. There are numerous different sayings to choose from online. We loved this sentimental saying which we shared with you.
4. An Enchanted Rucksack
Children need to keep their accessories in a bag or a small purse when they go out. Many students use drawstring nags. Your daughter is likely to have one as well. What If you replace it with something magical? Yes, this mermaid drawstring bag is every bit of cool she desires. The sparkly colors and sequins make a magical bag that will make her the star of her class.
5. Princess Dress
Many girls love to dress up. It is one of their favorite things to do. You can play it safe by gifting her a cute princess dress that is fashionable and not too extra. This floral dress fulfills her princess fantasies and serves as a chic outfit for any day. It is also available in a number of different color combinations and styles that allow you to choose the perfect outfit for your daughter. It makes a great present for any occasion.
6. Makeup Brushes
Girls love makeup. What better way to give them a gift than to fulfill their brush fantasy. These unicorn style brushes will strike her imagination. They are colorful, soft, and very cute, perfect for your girl. They are also very popular with beauty gurus, all the more reason why she would be wanting them for herself. You can choose from a number of different styles, but these colorful ones really strike a chord.
7. Glam Ballpoints
Children study on a regular basis but you can make it much more interesting with this cute little gift. These crystal pens are every schoolgirl dream. They come in beautiful rose gold and silver colors with crystals studded on the top. The beautiful combination really makes the men glow and presents a stylish pen that she can use for her everyday work.
8. Headphones
Music is the primary need of today's generation. Gift your daughter a beautiful girlish headphone set that will fulfill any girls dream. Going for a pair with extraordinary bass and great sound effect will make her even happier. Plus, on Amazon, there are pretty great color combination available to choose from. From wireless to over-ear, there are lots of options. If you choose a wireless one, she doesn't have to worry about all the detangling problems that irritate most of us. Your daughter will really love this gift, especially as she keeps breaking her old headphones every now and then!
9. Brainy Coasters
This is for a daughter who is really into studying. It also makes for a brainy gift. These coasters come with different brain sections printed on it that form an entire brain when piled one on top of the other they look really pretty and are a great joke to enjoy with your little girl. They will make a great gift, especially if you have a brainy daughter!
10. An Animal Mug
These cute mugs are a great treat for your girl. The sweet mug has a little animal hiding in its depth. As the tea empties, the small animal makes an appearance looking really cute. A cute gift for your daughter no matter what her age. This gift is perfect for all girls! You can also choose from a number of different animals or other creatures. Get one that she really likes and surprises her with an interesting cup of tea.
Daughters' Day Gifts from Dad – Find Word
Daughters are little angels. They get happy with a small card or a little flower. Giving them a sweet little gift every now and then gives these sweet creatures something to be excited about. The presents mentioned above are some of the best gifts that you can give your daughter. Choose from them and surprise your daughter with a sweet little gift that she won't forget. After all, every little gift has a place in her heart, which is why she is daddy's angel.